It has felt inevitable almost since the final whistle blew last June: a third NBA Finals matchup between LeBron James's Cavaliers and Stephen Curry's Warriors. There was simply no other way it could go. With four teams left, there is still a chance that it doesn't happen, that either the Celtics or Spurs—or both!—ruin the rematch. But, to paraphrase that great philosopher George McFly, Warriors/Cavs III has been our destiny all along. And while it may not be the Finals matchup we all want, it's the Finals matchup we all need.
When the Warriors signed Kevin Durant this summer, the hue and cry that went up from the NBA hoi polloi was this—the Warriors, in becoming Super Team West (hi, Knicks) had stripped their best rival of their best player, thus depriving us all of a competitive playoff series. Indeed, we did not get a repeat of Warriors/Thunder, which went 7 last year. Instead, we got a season of thermonuclear Russell Westbrook—something that could have never happened if KD stayed in OKC—and a Western Finals between the Warriors and the Spurs, which promised to be even better than last year's.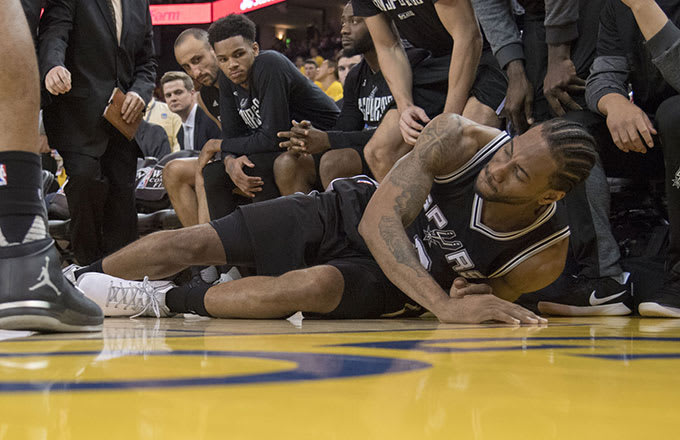 Image via USA Today Sports/Kyle Terada
And for a glorious half, it was. The Spurs ran out to a 25-point lead, led by do-everything cyborg Kawhi Leonard, who scored 26 points in 23 minutes before being felled by a questionable Zaza Pachulia closeout. The Warriors caught fire in the third quarter, as they do, and Leonard could only watch as his Spurs lost by 2. Gregg Popovich minced no words the following day, as he does, conveniently forgetting the questionable defensive tactics of his own Bruce Bowen, whose personal trophy room is filled with the ankles of shooters. But what's done is done. Leonard will miss Game 2, and the Warriors have the chance to turn that second-half momentum into a landslide.
Over in the East, the Boston Celtics finally closed out the Washington Wizards in a hard-fought seven-game series, for the presumed right to be obliterated by the Cavaliers, who've been poolside since May 7. Like the Warriors, the Cavs have yet to lose a playoff game this year. Unlike the Warriors, they don't have home court advantage in the Conference Finals, but that could change as soon as tomorrow night. Because while it's true the Celtics could have the best chance at getting the No. 1 overall pick tonight, the Draft still won't take place until after the Finals are over.
It's easy to forget, as the Finals draw ever closer, that both the Warriors and Cavaliers have had their own obstacles to overcome—the Warriors lost coach Steve Kerr at the start of the playoffs to recurring problems from an earlier back surgery; the Cavaliers have collectively decided that defense is optional. But Pop disciple Mike Brown has proven to be a capable replacement for Kerr, and the Cavaliers still have LeBron James.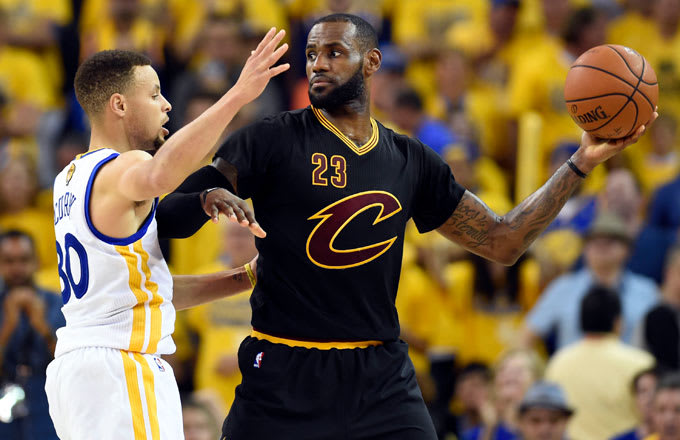 Image via USA Today Sports/Bob Donnan
If James does make his seventh consecutive Finals appearance, it will in part be due to the prior six. Yes, he's a superhuman talent who has not even begun to fall from what's been a decade-long peak. But the longer a King rules, the more difficult he becomes to dethrone, as even opponents—whatever they say in public—must wonder privately whether it's even worth the effort. The Cavaliers have won 11 straight playoff games, six straight playoff series. The Celtics may have home court advantage, but are underdogs nevertheless.
Until the Pachulia undercut of Leonard, the Warriors at least looked vulnerable. A Game 1 loss at home wouldn't have doomed the Warriors—the Spurs themselves found that out last series—but at least it would have been a loss. Instead they came back from 25 down, regaining confidence that they had never even lost. And Klay Thompson, who scored six points on 2-11 shooting, hasn't even shown up yet.
So more games will be played, and on June 1 the NBA Finals will start. The same two teams have never faced each other in three consecutive NBA Finals, but never has something so improbable felt so inevitable—at least not since the erosion of a certain 3-1 lead. Lessons learned from last year's Finals will likely propel last year's participants. The Warriors learned that no series lead is safe, while the Cavaliers learned that no series deficit is insurmountable. Not that either has come into play. It is entirely possible that as of June 1, the Cavaliers and the Warriors will both be undefeated in the postseason. And then the real postseason, the one that we've all been awaiting, can finally begin.